Spa Eiquette
Please note
* Booking treatments
In order to secure your preferred treatment, we recommend booking with our reception before you arrive. You will receive your appointment confirmation when you arrive at the hotel.
* Take some time out
We request that you arrive approx. 10 minutes before your treatment to enable your therapist to prepare for your treatment and allow you to take full advantage of your treatment time. Your treatment time may be reduced if you are late out of respect for the next guests.
* Clothing
Please wear a dressing gown to your appointment. To protect your privacy, you will be provided with disposable pants for each treatment and we apply a range of coverage techniques.
* Making your wishes come true
We aim to adapt every treatment to your individual requirements. That's why we ask you what is particularly important to you before each treatment. Competent advice is part of the treatment and something we are very passionate about.
* Cancellations
Any cancellations should be made min. 12 hours before the start of the treatment. In the case of cancellations made after this time, we will be forced to charge the full price for organisational reasons.
* Opening times
- Pool from 07.00 to 20.00
- Sauna from 14.00 to 19.30
* Pool area / sauna area
The sauna area is a peaceful nudist area. Clothing is not permitted for hygiene reasons.
The pool area is a family area – please wear your swimwear and be considerate towards other guests. Running, shouting and jumping from the edge of the pool is not permitted.
OUR ATTRACTIVE WELLNESS OFFERS FOR YOU
Time for two - romantic break
30.07.2023 - 05.11.2023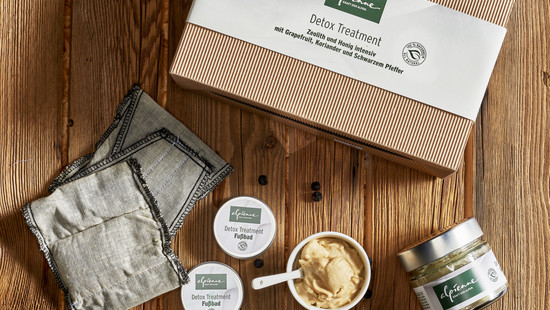 Schlössl Detox days
10.09.2023 - 05.11.2023
Wellness Short trip
07.01.2024 - 04.02.2024