EXCURSIONS IN TYROL
Ötztal valley and surrounding area
Numerous museums and destinations in the nearby area and in the state capital of Innsbruck in particular provide a relaxing cultural balance.
Here you will find a few suggestions for your cultural holiday in Tyrol.
Advance ticket reservations are available at reception.
INNSBRUCK OLD TOWN
The landmark symbol of Innsbruck, the Golden Roof, is situated at the end of the square-like Herzog-Friedrich-Straße.
The 16m Late Gothic oriel with open balcony was built from 1494 to 1496 by star architect of the time, Niklas Türing. It was built to mark the marriage of Kaiser Maximillian I with Bianca Maria Sforza of Milan (1494). The seat of government of the day was the Neue Hof (new court), to which the Golden Roof was added. This was built under Duke Friedrich IV in 1420. The magnificent oriel is decorated with 2,657 gold-plated copper tiles and once served as a recessed balcony for spectators looking down on tournaments and shows held in the square. The steep roof is covered with wrought-iron crockets. The oriel parapet itself features sandstone relief work and coats-of-arms. The fresco paintings were produced by painter Jörg Kölderer. The relief works depict the court society, the Kaiser and his consorts, Moorish dancers from the 15th century in acrobatic poses and jesters. The original relief paintings can be found in Tyrol's Ferdinandeum State Museum.
TYROLEAN FOLK ART MUSEUM
Most important folk art collection of the Alpine area featuring parlours, furniture, traditional clothes, farm devices, carnival masks and nativity scenes. Open all year.
HOFKIRCHE (Gothic church)
Built 1555 – 1665 by Ferdinand I.
Most important tomb of emperors (cenotaph of Maximillian I) with 28 bigger than life-sized bronze statues. Ebert organ dating back to 1558; world-famous clay monument, silver chapel, Renaissance organ. Tombs of Archduke Ferdinand II and Phillipine Welser, silver high altar. Open all year.
AMBRAS CASTLE
Medieval castle. Redesigned by Archduke Ferdinand II. from 1565. Spanish Hall (1570 – 1572). Collections of art, weapons and armoury, portrait gallery of the Habsburgs from 1400 to 1800.
Open from April to October from 10:00 a.m. to 5:00 p.m.
December to March from 2:00 p.m. to 5:00 p.m.
Closed on Tuesdays.
TYROL PANORAMA
On a surface covering more than 1,000m² the Berg Isel battle of 1809 (Tirolean Rebellion) is depicted. Topographically interesting depiction of Innsbruck at the turn of the century. Naturalistically made historic painting by Michael Zeno Diemer.
The TIROL PANORAMA is subterraneously connected to the Kaiserjäger Museum. This museum documents the military history of Tirol from the 18th to the 20th century.
HOFBURG PALACE
Built under Sigmund of Austria and Emperor Maximilian I in late-Gothic style (from 1460). Remodelled under Empress Maria Theresia (1754 – 1773) with ceremonial room, chapel and show rooms. Venue of the wedding of Leopold II with Maria Ludovica (1756).
Open daily, 9:00 a.m. to 5:00 p.m.
BELL MUSEUM Grassmayr
Family business with a 400-year long tradition. "From the ore to the bell" - a combination of bell foundry, bell museum, sound studio.
Open from Monday to Friday 9:00 a.m. to 6:00 p.m.
Saturday 9:00 a.m. to 12:00 p.m.
Closed on Sundays and public holidays
CATHEDRAL OF ST. JAMES
Originally a Gothic building, remodelled in Baroque style (1717 – 1724) by J.J. Herkommen. Roof frescos and stucco works by the Asam brothers. Picture of Mary by Lukas Granich d.Ä. Tomb of Archduke Maximilian III, the Grand Master of the Teutonic knights.
OLD CITY TOWER
Built around 1440. Tower with Walhaz top dating back to the 16th century. Fantastic view of Innsbruck and the mountain panorama.
Open: daily from 10:00 a.m. to 5:00 p.m.
Swarovski Crystal Worlds
World-wide renowned, three dimensional museum featuring crystals, light and sound architecture, created by the international media artist Andre Heller, in Wattens. Wattens is 15 km to the east of the gateway to Innsbruck. Well signposted.
Stift Stams
In 1273 Count Meinhard II of Tyrol and his wife Elisabeth, mother of Conradin, the last Staufer, founded a monastery. For its foundation, Meinhard II handed over the area of Stams, the parish churches of Silz, Mais, St. Peter and Mals and all the subsidiaries, to the monastery. The monastery was also assured wood procurement and customs duty. Tolls for the use of roads and for water and land were dropped. Monks from the Cistercian monastery in Kaisheim (D) were called to Stams. The monastery has always been bestowed with plenty of gifts.
Maria Locherboden
An image of the Madonna which was put there by a miner from the nearby mine, was found in an old cave. In 1871 the wonderful healing of a young woman, Maria Kalb from Rum, sparked its origins as a place of pilgrimage.
Stuiben Falls
What many Tyrolean people mean by 'Stuiben' are those microscopically small 'specks of water', which are what make this natural spectacle a real draw, as the cascading glacial streams drop down from the jagged cliffs and the sunlight fluoresces. A path takes you to the 150 m high waterfall in around three quarters of an hour. On the road to Niederthai there is a lovely viewing point and also a bus parking area. From here you can enjoy a wonderful view to the Stuiben Falls.
Ötzi Village
An archaeological leisure park. The world-famous find of Ötzi in 1991 and the associated scientific research has made it possible to reveal this authentic representation of daily life in an Alpine settlement in the Neolithic Age. Original film set for the Austrian documentary film 'The Living World of Ötzi'.
Hall in Tirol
A mint since 1486 – birthplace of the Dollar. Mintage began in Hall in Tirol in 1477 and in the period which followed was accompanied by important innovations, where above all else the minting of Taler is worthy of mention. Talers became Dollars. The town of Hall was home to the mintage from 1477 until its decommissioning 1809. Occasions for special celebratory coinage such as the Olympic Games in Innsbruck in 1976 gave the mintage in Hall the chance to take the spotlight again.
In 1486 the original Taler, 'The first Dollar of the world' was minted. In 1567 the first machine automated mintage (roller press coinage) was carried out. Between 1748 – 1768 there were 17 million Maria Theresia Taler minted. In 1809 the coinage was closed by Bavaria. In 1975 the coinage was re-opened and to celebrate the Olympic Winter Games in 1976 in Innsbruck, 100 Schilling coins were minted. Even today there are special 100 and 500 Schilling coins minted.
Rattenberg
The town of glass blowers: Austria's smallest town celebrated its 600th birthday in 1993. Rattenberg is the smallest town in Austria. Its beginnings date back to the year 1000. In 1393 Rattenberg was given town status.
Special places of interest:
The late Gothic parish church (1473–1506)
The abbey with its gothic cloister (around 1400) and the hospital church with its interesting tower solution. In the renovated Augustinian Monastery, since May 1993, the Augustinian Museum and its sacred art objects has been an attraction. The ruins of Rattenberg Castle, once the second largest fortress in North Tyrol, was abandoned after its closure in 1782, due to disrepair until it was purchased by the town council, who maintain it today. For many years there have been the traditional outdoor theatre performances at the Schloßberg. Also worth seeing are the Inntor and Brückentor, the only preserved old city gates, and Gasthof Traube, one of the former town halls in Rattenberg. The house where St. Notburga was born can also be found in the town.
The rural district of Radfeld is directly connected to Rattenberg. Also of interest to visitors who enjoy sacred buildings is the church that Radfeld entrusted to St. Briccius.
Bavaria and its castles
Linderhof: One of the loveliest excursions takes you to Bavaria. From the Haimingerberg proceed from Imst via the Hahntennjoch to Tyrol's Lechtal and continue from there to Reutte. Along Plansee, proceed via Ammerwald (the former border with Bavaria) to Schloss Linderhof. Whether you prefer to go for a stroll in the park or want to take part in a guided tour of the castle (built by King Ludwig II), it is definitely worth a visit. After a short journey you get to Oberammergau, a very well-known Passion Play venue, also known for its wood carvings. Your journey continues to Ettal Abbey and via Garmisch-Partenkirchen to Mittenwald (violin making museum), Seefeld to the Haimingerberg.
Neuschwanstein: Via the Fern Pass, proceed past Lermoos to get to the district capital of Ausserfern, Reutte. You definitely should take a break here. Continue to Füssen. From here it is not far to get to Hohenschwangau and Neuschwanstein castles. This fairy tale castle was built by King Ludwig II too. Gaze in wonder at this unique castle during a guided tour.
OFFERS SUMMER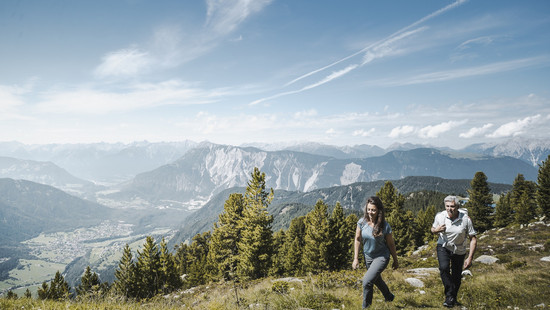 Early summer in Tyrol
09.06.2024 - 06.07.2024
Family weeks
06.07.2024 - 08.09.2024