DISCOVER THE NATURE OF THE ÖTZTAL VALLEY
Experience the highlight of the Alps
Due to our commitment to nature and the world of the Nature Park employees, we are a Nature Park partner establishment.
The Ötztal Nature Park offers interesting, adventure-packed and educational events, walks and tours. You will be amazed at how much new information and experiences you bring back home with you.
Our guests can take part in the events and guided tours for free. The Ötztal Nature Park is Tyrol's second biggest nature park and impresses with its diverse high Alpine natural and cultural landscape and its protection areas.
NATURAL SIGHTS IN THE ÖTZTAL VALLEY
Piburger See Lake and Achstürze Falls
Piburger See Lake, the Achstürze Falls and Habicher See Lake are among the landscape protection areas. In the summer the idyllically located lake attracts swimming and nature enthusiasts. The water temperature of the lake can reach a temperature of up to 24°C in the summer, thus swimming is truly delightful there. Hikers walk around the lake and enjoy a fantastic view of it from several exposed spots.
STUIBENFALL – TYROL'S BIGGEST WATERFALL
The impressive two-tiered Stuibenfall Fall, referred to as "Hoarlachbach" in dialect, drops 159 metres. A true nature spectacle. The clouds of water spray can be seen from far and gave the waterfall its name. On an easy hiking trail one can get to five spectacularly set platforms, on which one can experience the force of the water close-by.
FORCHET EDUCATIONAL GEO TRAIL
3000 years ago the upper Ötztal Valley was devastated by a massive rockslide. The chaotic accumulation of gigantic rock boulders has today become an especially wild landscape. The nature path which is well-marked and can be easily reached from Haiming aims at teaching us to encounter nature with respect and in an unconditional way. The rockslide area is unique and has been only marginally changed by man.
Obergurgl Stone Pine Forest
The Obergurgl stone pine forest is one of the UNESCO's biosphere reserves. An approximately 2km-long theme trail leads through the 300-year old pine wood trees. Such a population of pine wood trees is quite rare and that is why this "diamond" is also referred to as jewel case of the Obergurgl area and has been listed as natural monument since 1963.
OFFERS SUMMER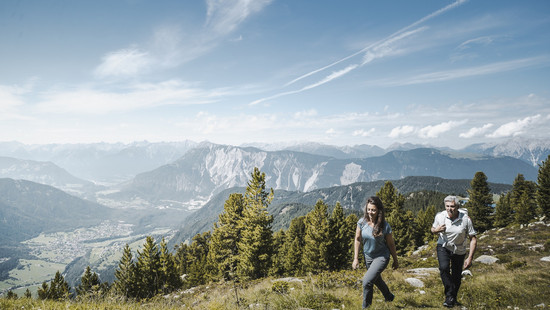 Early summer in Tyrol
09.06.2024 - 06.07.2024
Family weeks
06.07.2024 - 08.09.2024